Free US Citizenship Test Class
A free online class to prepare you for naturalization.
More information
Information about this program
This is an online class to prepare you for the US citizenship test. You can take this class on your phone or a computer.

The class is self-paced, so you can learn anytime.

You can get started today!

Our classes will prepare you for the test, but only the US government can give you citizenship. If any website tells you they can give you US citizenship, it is not true. Do not give them money or personal information.
Lesson plan
Welcome to the Citizenship Test Preparation Class!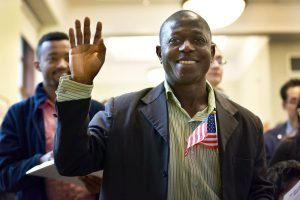 This class has three subjects: Integrated Civics, History, and Government.
There are 30 lessons that include some reading, activities, videos, and vocabulary review. Each lesson has its own quiz at the end so you can test your understanding. You can check right away to see if your answer is right or wrong. You can retake the test as many time as you like to improve your score.
For your final lesson, you will complete a full-length practice exam. Just like during your civics exam, in order to pass the final quiz, you must answer 6 out of 10 questions correctly.
After completing this course on the computer or your phone, you will be ready to pass the civics exam, one of the requirements for naturalization. You will also better understand the different steps involved in the naturalization process.
Start the class now!
Lessons in this class
Introduction 1
Becoming a citizen
Integrated Civics 1
Introduction to integrated civics
Integrated Civics 2
The fifty states, Washington D.C., and the United States territories
Integrated Civics 3
Bodies of water
Integrated Civics 4
American borders
Integrated Civics 5
National landmarks
Integrated Civics 6
The American flag
Integrated Civics 7
Holidays in America
Integrated Civics 8
Review - integrated civics
American History 1
Introduction to American history
American History 2
The new world
American History 3
Colonial America
American History 4
The American Revolution
American History 5
A new country
American History 6
Looking westward
American History 7
The Civil War
American History 8
World War I
American History 9
World War II
American History 10
The American Civil Rights movement
American History 11
The Cold War
American History 12
September 11th and the war on terror
American History 13
Reflection and review - American history
American Government 1
Introduction to American government
American Government 2
The legislative branch
American Government 3
The executive branch
American Government 4
The judicial branch
American Government 5
The Bill of Rights
American Government 6
Political parties
American Government 7
Your government and you
American Government 8
Reflection and review - American government
Final Civics Quiz 1
Citizenship practice quiz